SUCCESS n'
Najma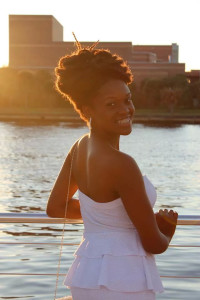 __ was one of the Daughter's of Destiny (inner-city, at-risk teen girl mentoring) where we first meet Shayla at one of their open-mic events. Each year Daughter's of Destiny selects their most improved girl and awards a college scholarship. Najma made a decision to move in another direction, Air Force intelligence. We worked with Najma on songwriting. She never spoke of singing, she was a songwriter. We were all surprised one night at the annual talent show at Blake. We didn't even know she was singing. They introduced her, she sang, she won second place. Wow! She's in the Air Force now, COOL!
LaQuinta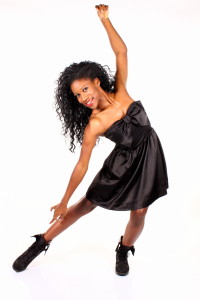 __ attended Blake high school and then left her senior year because the commute was to much of a strain on her mother. We worked with LaQuinta her senior year and she was able to receiving a partial singing scholarship to Berklee Music in Boston. Her dad said he would work as many jobs at it took for rest of the funding to get her there, COOL!
Cici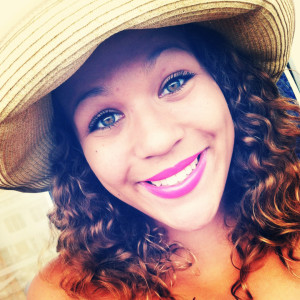 __ She was one of the Shoulda' Been a Boy Band girls, she sounds like Lorde. She sings on 'Impossible'. Arrested for breaking and entering at age 14, breaking into a school to steal pencils and paper and placed in the juvenile justice system. The great news; she's in college now, COOL!
STRUGGLE .  .  .
Ari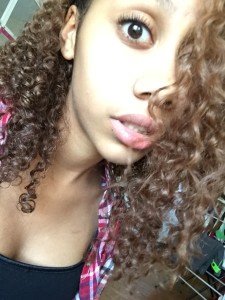 __  was picarusly close to flunking 8th grade when we meet her. She auditioned to be the choreographer for 'Shoulda' Been a Boy Band'. She and Shayla shared homeroom; they were each expelled 7 times during the school year. Shayla was living in group home and ended up flunking, Ari passed. She really wanted to be a singer. She kept trying to sing with the girls, the girls kept teasing her about her voice. In the spring of the third year of working with Ari each high school in the district could send 3 students to a special summer camp at University of South Florida for highly gifted kids helping them with SAT prep and AP course work. Ari was selected. Ari became homeless again at the end of the camp. We were able to place her with her aunt in Manhattan. She got straight A's living with her aunt. Her aunt got tiered of her and sent her back to Orland with her struggling mother just last week (June 2016).
Dasia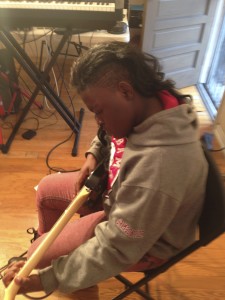 __ dreamed to attending Blake Performing Arts High School for their highly competitive creative writing program. We were able to enroll her and Shayla into special writing classes w/ help from some famous Nashville songwriters. Days spent, hours spent writing. We accompanied them to the Blake tryouts as their mothers were unavailable. Both Shayla and Dasia were accepted in the the elite writing program. Dasia has won several awards at Blake for her short story writing abilities. Now at the age of 16 she has an Etta James like voice getting very close to hitting Mariah Carey notes. Here she is at age of 12 she wrote and recorded her first album.
Shayla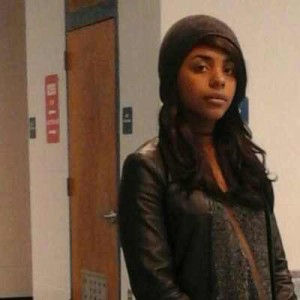 __ has been abandoned three times by her mother. We first meet her while she was in group home foster care. She had been arrested for beating a girl up because she called her older sister fat. She was 12. Shayla did her re-hab and community hours at  UACDC (one of our partners). Shayla's latest adventure was to be arrested for shop lifting. Then in November of 2015 she was kicked out of Blake performing arts high school. Its difficult for a teen girl raising herself. Now she is in a virtual Charter school in Tampa. She hopes to complete her high school degree by next summer. She turns 18 on July 19th. Life has been very tough for Shayla. She is very focused on her Social Justice blog these days. She writes fanfic for 1D from time to time. One of her stories got over 3 million reads in four days. Yes, the girl can write. She has been writing her own songs lately. Here is what we have so far on the first of them.
Ariel __ had just been kicked out of high school and was standing in the street waiving orange cone flashlights for a parking lot. Abandoned by her parents at a young age and now living with her grandmother in a drug infested neighborhood. Last winter they had no money to pay the electric bill, they were roasting hot dogs in the back yard over a fire they made from sticks that fell from the trees. Each week at the practice studio we would speak softly to her about finishing high school and attending community college. One day about 8 months after we started working with Ariel she called the CEO and told him she had completed her high school degree and just enrolled in Hillsborough Community College. She said she was so sick and tired of the CEO bugging her all the time. In November of 2015 she received her associates degree in nursing. She got a job as a lab assistant, then lost it after being arrested on 'assault with a deadly weapons charge'. She told her boyfriend she wanted to break-up. He punched her in the face, she went down, gets up, runs to the kitchen to grab a knife to protect herself. The boyfriend runs out to the street and calls the police. Ariel gets arrested.
We helped get all charges dropped and Ariel applied this spring to Clayton State University in Atlanta to pursue a four year degree.